Basics Basketball
Our training has proven results, with over 100 players advancing to play in college, 15 at the D1 level.  We focus on three fundamental areas required for competitive success.
Sharp repeatable SKILLS: 

Basketball is the MOST HIGHLY SKILLED game of all.  Skills must come first.

Premier Conditioning: 

Because we limit enrollment in the gym, Basics players rarely sit and must work hard

The Basics Mindset-Mental Strength:

Players who are ready for any outcome define mentally tough competitors. Our Mindset builds mental toughness.
MUST READ PARENTS:
Player-Team Readiness 
The status quo in youth sports is to COMPETE even if the player/team is NOT READY to compete.   
At Basics, we understand the allure of competition, games, leagues, results.  There is a huge difference between competing and competing with a chance to win, especially when you play superior athletes.  (see Princeton video to right. # 2 Arizona vs # 15 Princeton.  We KNOW who has the superior athletes!)
Whether you have a beginning basketball player or your son/daughter is the best player in the program, there is no more competitive choice than Basics because we emphasize SKILL DEVELOPMENT, a relentless focus on CONDITIONING and then the key ingrediant of mental strength/toughness. Nine (9) % of Basics varsity players since 2011 have made the jump to college athletics versus the national average of 1 %.  
Mikan Drill Progression Scores
Lebron still does the drill.  The most important skill drill in basketball.  Mikan Drill
Skill, Condition and Mental Strength on display
Case-in-Point: watch final 4 minutes of Princeton-Arizona game.  Basics has a direct tie to Princeton, this level of skill and mental toughness.
Plus 1 Minus 1
Shooting Drill
Making an UNCONTESTED 15′ shot is pretty basic.  Like many things we do, Basics assigns a NUMBER to the skill.
Shooting Clinics
Basics has developed some of the finest shooters in Michigan since 2006. In each hour-long clinic, the players will get close to 500 repetitions.  500!!  Over the first 30-minutes they are not permitted to shoot on the rim, allowing us to focus on the key elements of BALL POSITION, LEG DRIVE-BALANCE, RELEASE, and ROTATION.  In the last half hour we break out into small groups of 2 or 3 and apply this developing form into shooting on the rim.  The key element of FOOTWORK is incorporated as well.
EX:  This 7th Grade Boy turned into this College player.
Ball Handling Clinics
Ball Control PRECEDES Ball Handling.  This is an important concept and why so many young players struggle with pressure off the dribble. Simply put, a player has almost no chance for success off the dribble unless they can really control the ball first. So we spend a lot of time on ball control before breaking into dribbling drills.  Our ball handling clinics include hundreds and hundreds of repetitions, leading to capable ball handlers.
Private Training
Our private training is one of our most popular choices because the players get immediate feedback on their skill level and most importantly, drills to help them improve.  Our coaches demonstrate PRECISELY what to do and how to do it.  Take advantage of our 4 pack of privates and save.  
NOTE:  our privates are good for 1 or 2 players, no extra cost for a 2nd player.
Other Training + Camps
Pre-Season Prep, After School Clinics, Summer Camps, Christmas Clinics, Spring Break Clinics, Team Camps, Coaching Seminars, Open Gyms, Free Throw Training, Post Play Training, Advanced Player Camps,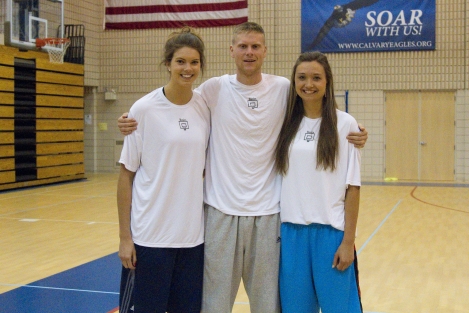 We are so proud of our hardworking Basics Graduates & Associated Press Michigan High School Players of the Year
L-R: Cole (U of M), Bruinsma (U of Detroit), Richards (Cornerstone)
Basics Mindset
Mental strength tools and routines are powerful.
The Basics Mindset training improves confidence, resilience, and fosters stronger commitment & attitude. Learn how to approach adversity and challenge with resolve, creating a competitive advantage in generating positive outcomes with life-long applications.
Learn More